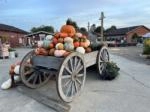 Craven Farm, Inc.
The Original Pumpkin Patch of Snohomish, WA at Craven Farm
Craven Farm
13817 Shorts School Rd, SNOHOMISH, WA 98290
Sep. 16th - Oct. 29th
Pumpkin Patch
September 16th -October 29th

Our family-owned, award winning farm that has been providing generations of families with fall harvest fun since 1983. Offering a variety of activities including corn mazes, apple cannons, animals, jump pads, axe throwing, fire pit rentals, pumpkin picking, gift shop, fair foods, field trips & more. Barns &party rooms available for rent, perfect for birthday & corporate parties. Come create lasting memories with your family and friends.
Buy two wristbands get one free! Craven Farms Coupon
Show this coupon at Craven Farms and Buy two wristbands, get one free! Wristbands include: - Mazes - Alice in Pumpkin-land - Easy & Hard - Kids Adventure - Hay Ride - Mini Golf - Rubber Duck for the Races - Cow Train Ride (Limited Runs Weekdays) - Human Foosball - NEW Jump Pad